I was talking to my best buddy
A
this evening. Well, when we start to talk - we're capable of talking till the sun sinks in the West. THAT MUCH! There were a few things that she opined that I find quite honoring/ interesting/ appealing to me. Amongst those topics was how she felt I was improving as a Blogger. I found that quite an achievement and a scare! :) To be told
"You know? You're writing so well that I feel inspired enough to start writing again, Nandhini"
is a mighty compliment for a blogger midget as me. :) I'm a little scared because I think I should subconsciously make better posts with each article that I publish. The bar has been raised without my knowing. A - I know you'll be reading this and smiling to yourself when you see this. I am happy for all the inspiration and support that you'd given me throughout. Love you and thanks for making me pick up the (virtual) Pen again! I'm lovin' it! :-D Also quoted by A - "Perfection isn't a destination; it's a journey". Rich in meaning, don't you think?
Moving on - there are a few things I'm going to mention about in this article. I'm reserving the Quarter Life Crisis post for Republic day 2012. I think I'll have some spare time then and I'd be able to make a decent post on Thursday for that.
Birthday
Elvan Truffles!
D.A.M.N! :-D
A very memorable, special day this year. The last time that I felt so content and happy was probably when I turned 10 - when Viji Chitthi came to India and they organized an official cake-cutting celebration on my birthday! :) I remember that they hung a blackboard sheet with birthday wishes and art with color chalk pieces all over (Scribbles courtesy: My dad) in our living room that evening. Ah, memories! It was one birthday I will remember! After that one, I'd rate this birthday as the next to stay fresh in my memory for a long time to come. It's special for different reasons. Not just one thing separately! For those who'd like to know what chocolates I took to office - it was Elvan Truffles - Turkey-made chocolates. Some of my project team people joked
Ennathu, Turkey made ah? You mean, the bird?
to pull my leg! It was all gone in 15 minutes from the moment I dropped a Chocolates at my desk mail! There were calls throughout the day. Some calls on 19th and 21st too - People thinking my birthday was on either of these days. Hahaha! :-D
To think, I was imagining my birthday to be significant-with-nothingness! I was proved wrong. I'm not posting any of the birthday pics here but let me tell you, I had a fantastic time even though I thought I'd made a mistake by losing touch with some people! I thought
they
were the only ones I'd go outings with, they were the ones who'd show me what fun was all about. I wasn't aware that beyond them, there could be a world of people wanting to see me smile and wishing to make me happy. I'm talking of course about the D.A.M.N group (Even they don't know this is the Acronym I've created for US. Hehe!) and their special surprise yesterday. I don't have words to describe the good times. I'll just illustrate the happiness by putting up a Fun pic! :-p If any of you from the D.A.M.N group read this post - I hope that you guys wouldn't go
D'oh!
upon my creativity in coming up with this acronym. :-P
My lovely sisters & I - We're the Powerpuff Girls!
Birthday Cake(s)!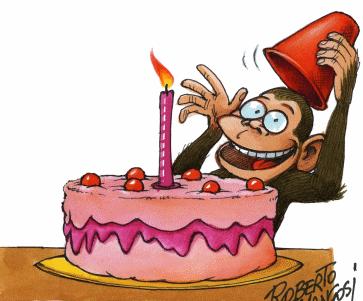 Me? :-D
And not to forget, the beautiful decorations that S and V did for my cubicle at office. I was both surprised and pleased - reaching office on Friday! Love you, my dear sisters. You guys are so amazing. :* In all, it was a birthday I'd like to cherish. For all the pointless but lively talks we did on Saturday - discussing about the history behind Domino's Pizza logo, the fun with the Party Popper in the terrace, Devouring the pizzas but still being unable to finish it all, describing my house grill gate as
Vinnai Thaandi Varuvaaya
gate - There were more brilliant moments in the evening that I'm not able to recall immediately. And I hope this year turns out to be a good one till the end. Touch wood! And thank you Lord, for being so kind to me. For giving me friends that I never knew who'd be this close and this loving. You are an AWESOME Lord! :)
This reminds me of how fortunate I am to have these people around and that I should learn to control my flaring temper that smoulders people. :-| I ended up yelling at my friends for being unable to come for lunch 3 days ago. They messaged, they called - I didn't receive any of them. The result was that I was too pissed over this and I couldn't do anything about it but get angry. Ouch. Control the temper, Nandz! I'm sorry guys - though it's a virtual one and you'd never hear it out loud.
Finally, to wrap up this post - I am hooked to the fast number
Pa Pappa Pappa Pappa
from
Vettai
. It's one nice, peppy track. Try listening to it. Maybe you'd like it too. Why don't you take a look at this still from the song? :-D
Arya and Amala Paul look smashing, don't they?
And another great news is that - I'm out out that perennial project which comes alive for every release. The project which deals with
this
. I am happpppyyyyyy that I'm out of it! But poor S. She's tagged to it. It was an arseignment - as A rightly said. :-P This is just something I wanted to add along with the rest of this scribble. That's all for now! :)