SAA - Shoppers Anonymous Association.
The world is evolving with every minute. Along with it changes the perception of what's right, wrong, easy and difficult. In the E-Age that we live in, a replacement for conventional shopping has been found. :) And that, my dear folks, is Online Shopping. In this article, I'm going to narrate my journey thus far as an E-customer.
A couple of clicks.. And the item is yours!
It must've been some 6 or 7 months ago, that I came across the fan page for Maatikkaar Terracotta jewellery on Facebook. Being bored and having nothing else to keep me occupied, I simply perused the pictures on their fan page. The jewellery collections on their page simply stunned me, with the detailing and designs. Surely, I hadn't seen beauties like this anywhere else. After plenty of hesitation and a lot of thought, I got in touch with Ms. Vasanthi Meattle who owns Maatikaar. There was an online payment which was involved, after which the goods would be carefully wrapped and sent across. And thus landed my surprise a long way back. I wasn't one bit disappointed because my stuff arrived perfectly well, carefully packed and wrapped in bubble-wrap paper for extra safety. :-D I was delighted that such options to buy things existed. Interestingly, Maatikaar operates only through online for its customers. After that one hit with Maatikaar, I let it pass by and got busy with other things in life - mostly depressing.
Lots of offers to see - All from home.


And then came the time when we had to buy gifts for Aarthi's birthday. That's when I used a few other E-portals including FlipKart to make online purchases. But unlike Maatikaar, FlipKart provides an option of Cash on Delivery while buying anything. Perfect! Now that's along the lines no money, no honey! :-P Maybe that sparked my interest therein. I began to diligently follow some of the big names in online shopping and decided to give it a try to buy clothes, accessories, even a handbag and every experience has been something to learn, something to cherish. :) The point I'm trying to draw from this article is that with fast changing trends, there has emerged an option to shop online and the tech-savvy, perennially busy folks are using it to buy whatever they're interested in. The unique feature about buying things online is no hassle and it's not a tiring experience. The products that you order get delivered to your home in a few simple steps. You get to go through the entire website, arrange items in ascending/ descending order of prices to check if its budget-friendly, read customer experiences, compare items and check which one is the best etc. The most ironic fact is that while you are among thousands of people poring over products online, you do not know even one person's face or tastes amongst those thousands. :-D Get it, Shoppers Anonymous?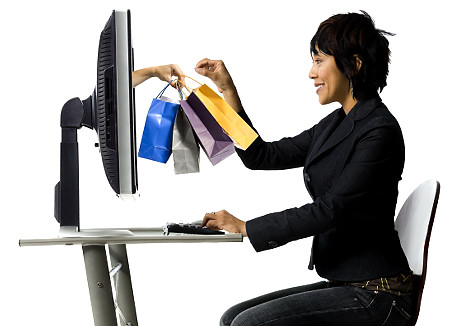 Online Shopping CAN be fun!
One must admit that over here - You do not get the sense of victory when you grab an apparel/ an item that someone else had already taken/ haggle for an article with the seller or stroll around the shop feeling the material in your hands or smelling the fragrance of clothes. Not to forget the soft drinks that the big apparel shops offer as compliments to the vociferous shoppers. :-D But what online shopping does provide is the convenience of buying products right from home, seated comfortably in your pajamas with your hair an absolute mess! And that's ME exactly. :D It's fun; And maybe you should try it sometime too.
Random Fun Fact:
I got mom a new phone yesterday. Nokia C2-01. Sigh, only I can't buy any phone that I'll be able to enjoy. Atleast, let her!