Today, my friends and I went for Ice Age 4 - Continental Drift 3D. :) Since I haven't watched the previous three movies, I didn't have any expectations from the plot. The story was a mix of laughter and entertainment all over. It's based on a plot of the breaking-up of continents from
Pangaea
due to
Scrat
's hunt for Acorns and how the protagonists survive the catastrophe. Here's a compilation of the characters and what I adored in each of them.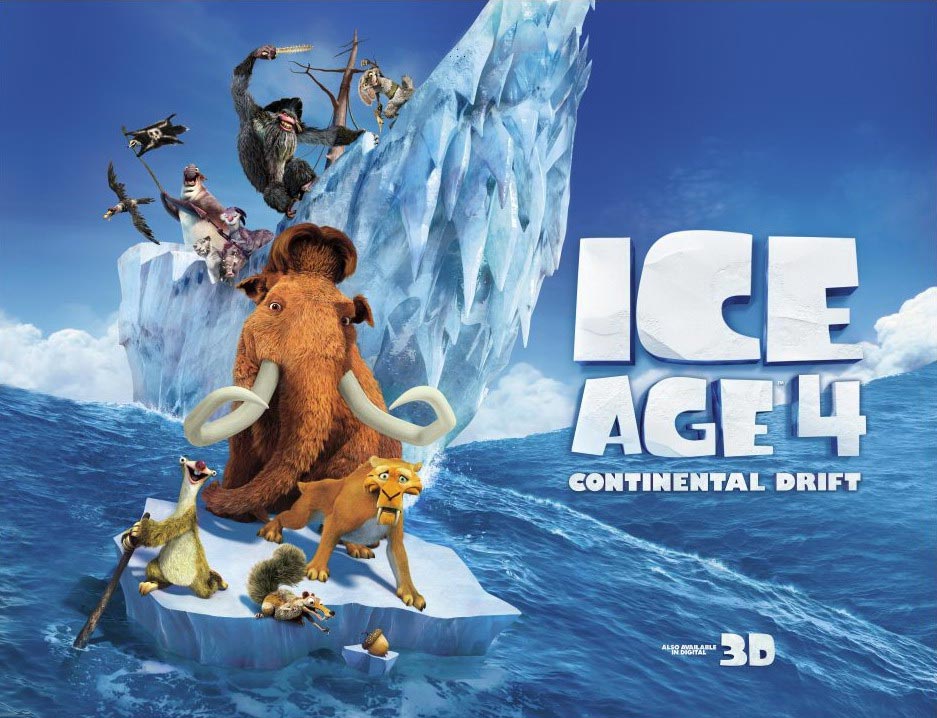 Peaches who changes for others, and later moves from the so-called 'hep gang' back to Louis,
Manny, who is an over-protective and responsible father mammoth,
Scrat, and his over obsessiveness for Acorns, (he's a funny guy)
Diego, a rough and tough tiger, who seemingly develops a soft spot for Shira,
Sid, who is the clumsy, nonsense-speaking sloth,
Ellie, a loving and caring mother mammoth,
Granny (Sid's grandmother), and her ever-faithful pet Precious. (a blue whale)
I adored every single animal from the movie! :) I've missed out the bad guys -
Captain Gutt, Flynn, Raz, Silas, Squat, Boris, Gupta
and the very cute troupe of
Hyraxes
who help defeat the pirates! I particularly love the tribal dance bit that they do along with
Sid
. :D Every single character which appears on the screen is pivotal and inspiring.
In all, the movie had been an enthralling meet-up! Later after the movie was over, we went to Rich and Creamy and sat there animatedly talking of who fits which character. :-D From those discussions, Aarthi is
Peaches
, Madhu is
Sid
, Deepa is
Scrat*
and I'm
Diego
! I feel Aarthi picked the beauty from the lot. :-D I like Diego.. :) He's understanding and gives chance to others. Oh well, he did give a second chance to
Shira
. Not the exact depiction of my character but a few areas fit in us. I like it that's he's a rough tiger out there.. I'm a tough person too! B-) Or so.. I'd like to think!
* - We think that
Scrat
resembles Lays better - since she's completely over obsessed about her appraisals. :-P (her acorn!)
Here's a photo from our
Rich and Creamy
exploits:
Yum yum YUM!
I haven't got much to go on with. Others apart, I've had a hair-cut and bought new slippers yesterday! This has been one busy weekend. :) Welcome Monday morning! (Already?) :-|